Like a sexy guy or gal walking into a bar, the 401(k) plan grabs all the attention. But there are plenty of other employer-sponsored retirement plans in the sea: 403(b), 457, TSP, Solo 401(k), SEP IRA and SIMPLE IRA…what the heck are these? Sadly, two-thirds of Americans don't contribute anything to a 401(k) or other employer-sponsored retirement plan. Do not be one of these ignoramuses! This post helps you figure out which one might apply to you and why it's so important to contribute.
Employer-sponsored retirement plans are limited to those of you employed by companies/agencies that offer such plans. The most common types of these plans are called 401(k), 403(b) and 457 plans – so named for the IRS tax code sections that govern them – as well as Thrift Savings Plans. Then there are three separate plans – Solo 401(k), SEP IRA and SIMPLE IRA – offered to self-employed individuals, small business owners and/or their employees.
The plan(s) that might be offered to you depends on your type of employer:

While these plans are terrific gifts from the US government, approximately 20% of U.S. employees lack company-sponsored retirement plans (based on data estimates). That means 1 of every 5 of you reading this blog will not have access to these plans. However, it's the other 4 of 5 of you that are receiving my evil eye. According to a working draft of a Census Bureau study by Michael Gideon and Joshua Mitchell, although nearly 80% of Americans work for an employer that offers some type of retirement plan — whether it's a 401(k), 403(b) or something else — only 32% of workers actually put any money in the account. This is horrendous, embarrassing, pitiful, mind-boggling, painful, cuss-worthy…shall I go on? Seriously, check with your employer to determine whether any of these plans are available to you.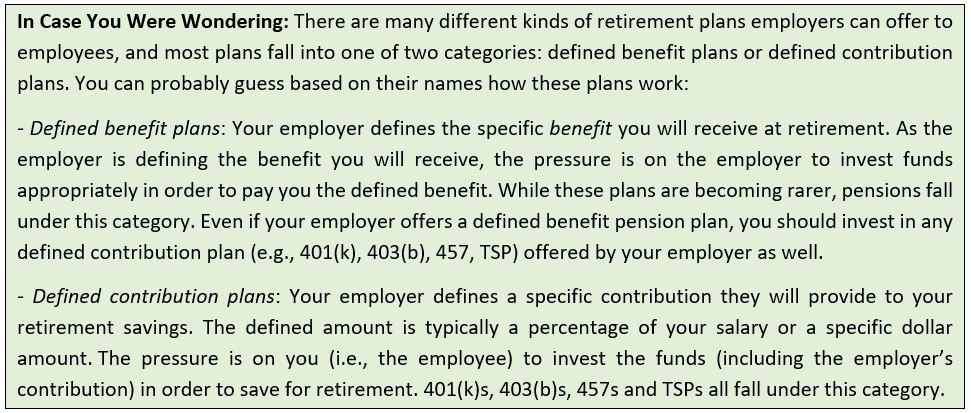 Basics of Employer-Sponsored Retirement Plans
For the purposes of this Basics section, employer-sponsored retirement plans include all of the plans in the employer-sponsored retirement account table above: 401(k), 403(b), 457, TSP, Solo 401(k), SEP IRA and SIMPLE IRA. Don't worry about memorizing everything about each of these plans: usually only one could apply to you.
Each of these plans offers tax incentives for your retirement savings. That is, you can defer paying federal and state income taxes on your retirement account savings and their investment earnings until you withdraw the money at retirement (Traditional) OR you can pay federal and state income taxes up front and allow your savings and their earnings to grow tax-free, without paying taxes when you withdraw the funds at retirement (Roth). We'll discuss Traditional vs Roth in more detail in a subsequent post.
When you invest in one of these retirement accounts, you control how you invest the money. The value of your account is based on the contributions made (by you and your employer) and the investments' performance over time. One of the main differences between these plans is the menu of investment options in which you can invest your savings. Whereas a 401(k) might offer a large variety of investment options, including mutual funds, exchange-traded funds (ETFs), annuity contracts and individual securities, a 403(b) might offer only a limited array of certain mutual funds and annuity contracts. We will discuss each plan's typical investment options in subsequent posts.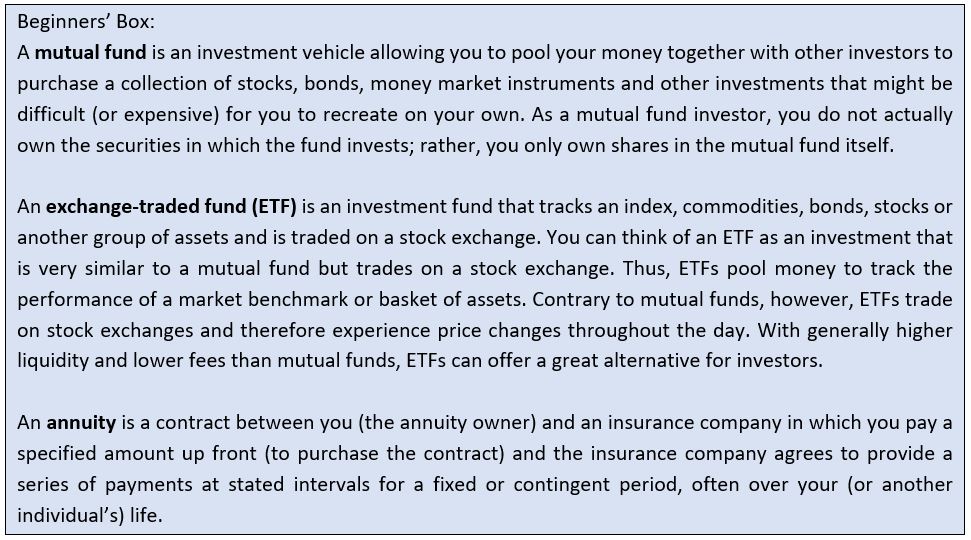 However, like many good things in life, there are limitations on these fantastic savings vehicles. You can compare the restrictions the government puts on retirement plans to the type of restrictions a beautiful woman (let's call her Barbie) might put on a man (let's call him Ken) during a first date. Even though Barbie likes Ken, she will make Ken work for what we all know he wants. Try to tap (pun intended) that benefit on the first date and Ken will get slapped silly. Now if Ken waits for several dates, Barbie may then allow Ken to proceed slap-free.
Similarly, to prevent you from tapping your retirement account savings before retirement, the IRS slaps you with costly penalties for withdrawing your funds prior to retirement (with the exception of certain circumstances which we will discuss in a later post). But here's where the government is even worse than Barbie: in addition to the early withdrawal penalties, the IRS sets annual contribution limits for your retirement accounts. The IRS employee contribution limits for a 401(k), 403(b), 457 & Thrift Savings Plan in 2021 are as follows:

*Your total contribution, including your contribution and your employer's contribution/match, cannot exceed $58,000 or 100% of your salary ($64,500 or 100% of your salary if age 50 or older)
(Note: contribution limits for self-employed plans, including a Solo 401(k), SEP IRA and SIMPLE IRA, are slightly different, so we'll cover those limits in a future post).
For more information on a specific employer-sponsored retirement plan, click on the associated link below:
For more information on traditional vs Roth accounts, visit the subsequent post to determine whether the traditional or Roth plan best for you.